Post by Webster on Jan 24, 2021 6:21:03 GMT
The Guardian: Larry King, famed cable news interviewer, dies aged 87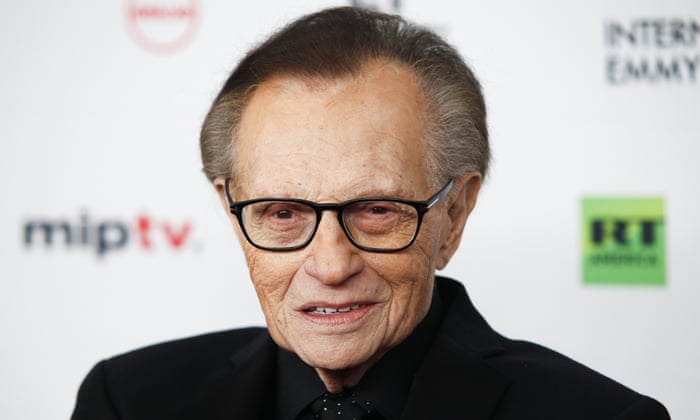 Larry King, the American broadcaster and cable news interviewer of celebrities and public figures, has died. He was 87 and had been hospitalized at Cedars-Sinai medical center in Los Angeles with symptoms of the coronavirus.

A statement on King's social media accounts confirmed the news on Saturday. "For 63 years," it said, "and across the platforms of radio, television and digital media, Larry's many thousands of interviews, awards and global acclaim stand as a testament to his unique and lasting talent as a broadcaster."

King hosted his flagship CNN show, Larry King Live, for 25 years. At its height, it drew 1.5 million viewers a night. "We mourn the passing of our colleague Larry King," said CNN president Jeff Zucker in a statement posted to Twitter. "The scrappy young man from Brooklyn had a history-making career spanning radio and television. His curiosity about the world propelled his award-winning career in broadcasting, but it was his generosity of spirit that drew the world to him.

"We are so proud of the 25 years he spent with CNN, where his newsmaker interviews truly put the network on the international stage. From our CNN family to Larry's, we send our thoughts and prayers, and a promise to carry on his curiosity for the world in our work."

With his trademark suspenders, gravelly New York accent and under-prepared questioning – he often said he preferred entering an interview knowing no more than his audience, so he could ask the questions they would – over the course of six decades King became one of America's most recognizable media figures.

"While it was his name appearing in the show's titles," the statement announcing his death said, "Larry always viewed his interview subjects as the true stars of his programs and himself as merely an unbiased conduit between the guest and audience. Whether he was interviewing a US president, foreign leader, celebrity, scandal-ridden personage or an everyman, Larry liked to ask short direct and uncomplicated questions."

Known for his soft interview style – "If you approach [an interview] combatively you get defensiveness and you don't learn much," he told the Guardian in 2015 – he conducted more than 30,000 interviews during his career, according to CNN, including such public figures as Yasser Arafat, Nelson Mandela and Vladimir Putin, every president from Richard Nixon to his friend Donald Trump, and celebrities from Frank Sinatra to Lady Gaga...
-Read more:
www.theguardian.com/tv-and-radio/2021/jan/23/larry-king-dies-87-hospital-coronavirus